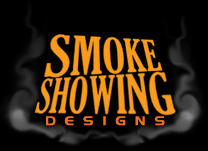 Contact us today:
sales@portergraphics.net
Welcome
Smoke Showing Designs offers a complete web package solution, custom graphics for your personal vehicle, apparel and we are focused towards Fire Departments, EMS companies and any emergency service oriented business.

A quality website with frequent updates can boost morale, expand recruitment, and allow you to showcase your department to the community. Our design and hosting services will help your organization do just that! Our websites offer many exciting features, including a Photo Gallery. The Photo Gallery allows your department to display apparatus, community events and incidents. Members are also able to communicate through discussion forums, post online calendar events, and much more.

Having a website no longer has to be an overwhelming and exhausting task. Smoke Showing Designs has simplified the process and offers this service to not only fit your needs, but more importantly... your budget!

We work directly with our clients to custom design everything from your company logo to a monthly newsletter. If you need any custom graphic design done, Smoke Showing Designs is the place to have it done.
Smoke Showing Designs is Firefighter owned.